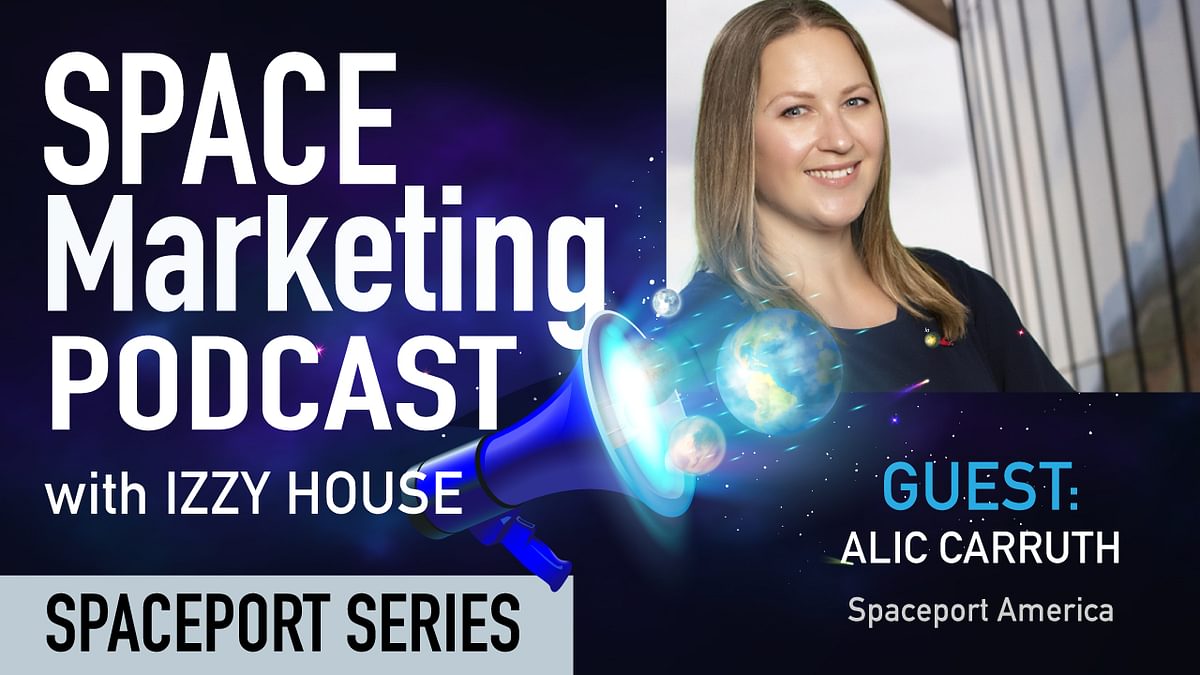 Todays' guest is Spaceport America's very own Alice Carruth, one of the spaceport industry's most active marketing professionals. She is the public relations coordinator for one of the most iconic spaceports in the world that is home to Virgin Galactic spaceplanes,
ABOUT ALICE CARRUTH
Public Relations Coordinator
Spaceport America
https://www.spaceportamerica.com/
SMP Show Notes - Expanded
Want to know more about the marketing strategies discussed in today's podcast?
The corresponding pages are provided for a deeper dive into the listed strategy in Izzy's book, Space Marketing: Competing in the new commercial space industry available at Amazon and Audible.
Education-based marketing (page 180)
Providing a STEM education outreach program can provide educators with tools to inspire the next generation of scientist, engineers, artists, and more. It increases awareness of your brand and establishes trust because it is giving back to its audience.
Alice talks about developing a STEM/STEAM program using things around the house during the pandemic. They worked with the local university to develop classes that match science standards for teachers to implement the classes.
Another STEAM program was students creating space art posters using Hubble telescope images and icons for New Mexico promoting the state and space. These posters are displayed throughout the state.
https://www.spaceportamerica.com/education/
Events (page 160)
An event can generate buzz. It gives a reason for content, to be created and consumed, like social media posts, videos, or articles. In addition, it can provide the opportunity for engagement with a brand's audience, vendors, suppliers, colleagues, and people of influence.
It can also provide is an occasion for the tribe to come together. Invitations for speakers, dignitaries, experts, and officials increase stature, enhances influence, expands brand awareness, and create opportunities for interaction.
Alice speaks about two events that supports the space industry in New Mexico. Both events establish the state and Spaceport America in the minds and hearts of the community.
Las cruces space festival
https://www.lascrucescvb.org/las-cruces-space-festival/
Competition (page 175)
Competitions are powerful events that gives you audience a reason to come together, your sponsors a reason to invest, and content development that people will want to share.
Spaceport America Cup
https://spaceportamericacup.com/
Podcast (page 131)
A podcast is an excellent marketing tool that establishes a conversation with your audience and can define the message that your brand is expressing.
The Spaceport America Podcast uses their podcast to explain what a spaceport is and what Spaceport America does. It provides a platform to promote customers and tenants. It talks to stakeholders, like the investors and taxpayers, and lets them know how valuable the spaceport is to them. It can provide a platform to clear any misconceptions and provides conversations about why it is important to go to space.
It is important to establish a narrative that demonstrates the importance of space so we can take care of our planet. We have to see the Earth from space in order to fix it.
Tours (page 44)
Your brand is like a person. Tours provide an excellent way for your audience to get to know who your brand is. This develops a deep relationship.